Professional Audio System 2/4 Mini DSP Processor PAP-024
Mini DSP processor PAP-024 is a versatile pro sound device that meets demand for commercial audio and professional acoustic. It has combined basic music processing in a pro audio way and add special features for public address system needs as well.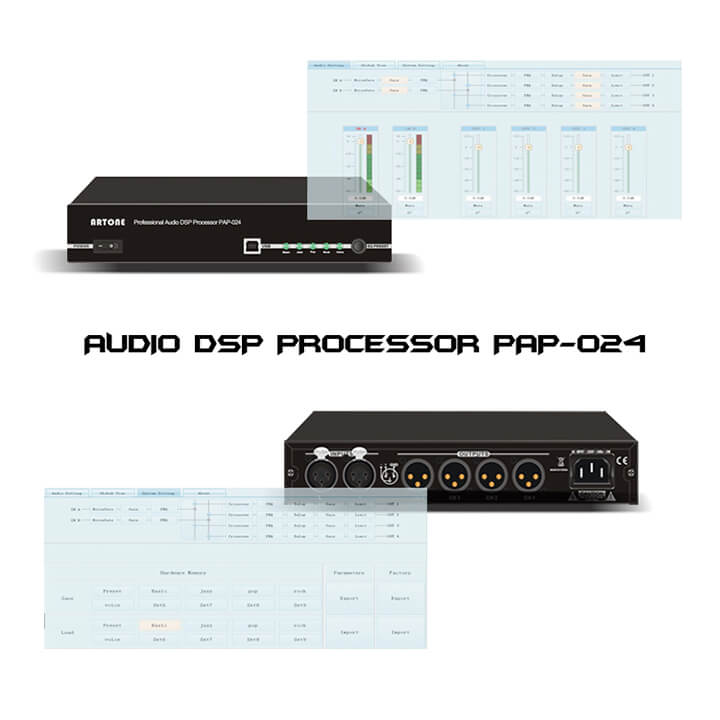 The small DSP processor PAP-024 is a semi-pro digital audio signal mixer, it features with 2 audio inputs and 4 channel outputs audio line specific sound processing. Though user-friendly 2x4 DSP sofware, PAP-024 can route signal to certain output channels, to set EQ, limiter, noise gate, timing and mix or separate control the 2-way audio system.
ARTONE processor PAP-024 designed in small and compact size, that allows it fits most of acoustical applications, no matter small or large places. It can be set on the tabletop and save space, either on standard 19'' rackmount cabinet with our mounting kits.
Connects to ARTONE 4-channel power amplifier or 2-channel amplifier booster, you are good to adjust the desired audio line level or different sound effect to customize right music style for your party or show. It is perfect to be adopted for night bar, coffee shop, high level flagship store, ktv, disco stage or other small and medium show, and quality background music system and PA system too.
Features:
- Ultra small and compact half of 1U rackmount design;
- High quality components used for audio processor;
- Balanced XLR 2 input & 4 outputs digital audio signal lead and send;
- Adjustable EQ, delay, noise gate, sound level, limiter;
- 24 bit analog and digital converter;
- 48KHz sampling rate;
- Pre-set 10 modes for quick sound apply;
- LED illuminate indicator.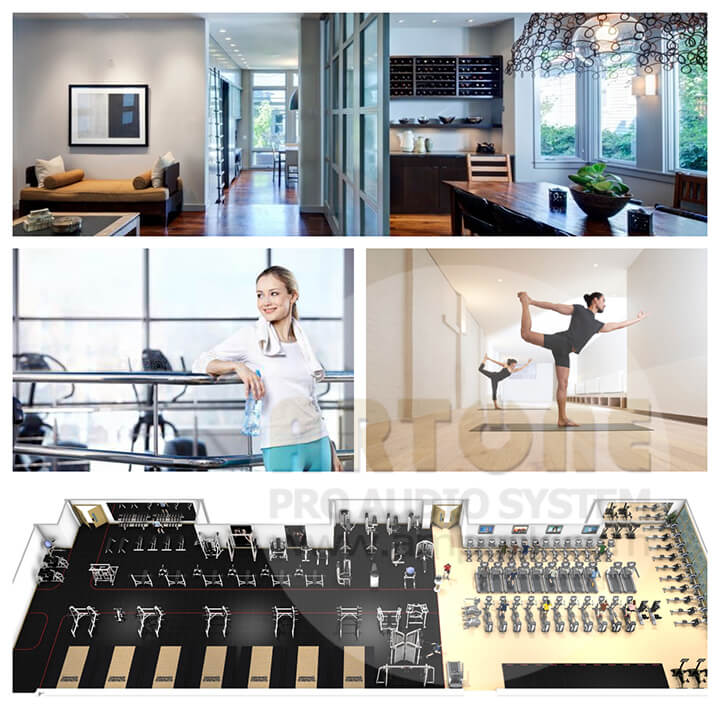 Specification
| | |
| --- | --- |
| Model No. | Professional Audio 2-in 4-out Mini DSP Processor PAP-024 |
| Input & Output | Balanced 2-input / 4-output |
| Connector | XLR |
| AD/DA Converter | 24 bit |
| Sampling Rate | 48 KHz |
| Frequency Response | 20~20KHz |
| Distortion | < 0.01% |
| Impedance | Input 10k ohm / Out 1k ohm |
| Setting | Equalizer, cross-over, limiter, noise-gate, delay, line level |
| PC Control | Windows XP / Windows 7/8/10, Type-B USB to PC |
| Measurement | 242 x 110 x 44 mm |
| Power Supply & Consumption | AC 220V 50/60 Hz or AC110V / consumption power 5W |
Related Products
Welcome to contact us at here, for professional audio and commercial installed sound system distribution or OEM/ODM business.