Digital Mini Mixer Amplifier with Echo Effect PA-103 & PA-106
The small design mini amplifier PA-103 and PA-106 are 100V digital mixing amplifier for small area sound system. It is rated power 30W and 60W, able to drive 2 to 6 ceiling speakers or wall mount speakers. This will lead quality sound to fulfill the space.
Several input sources available for sound system, PA-103 and PA-106 has built-in audio source include USB, SD card and Bluetooth. 1 microphone input with priority for PA, echo effect is allowed to obtain better performance.
It is ideal audio system for use in store, small pubs, coffee shop, tutor, mosque, mini party, etc. commercial sound application.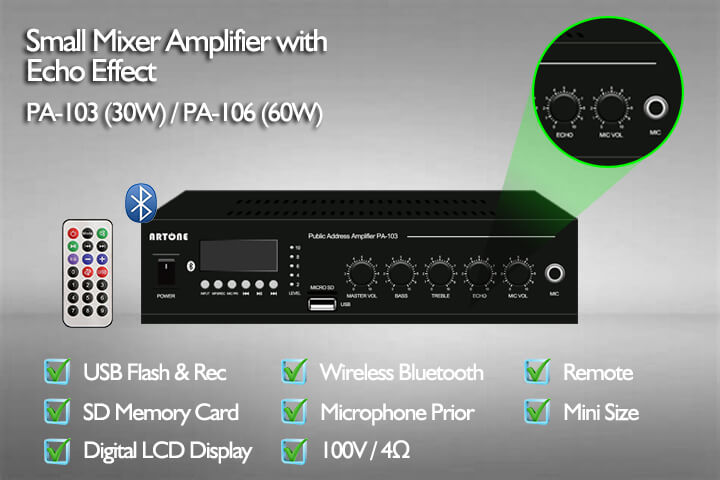 Features:
Small and compact size mixer amplifier;
Built-in USB, SD card and Bluetooth receiver;
70/100V sound system;
1 Microphone jack 6.3mm;
Echo effect adjustment;
Treble, bass, master volume level control;
Remote controller;
Record sound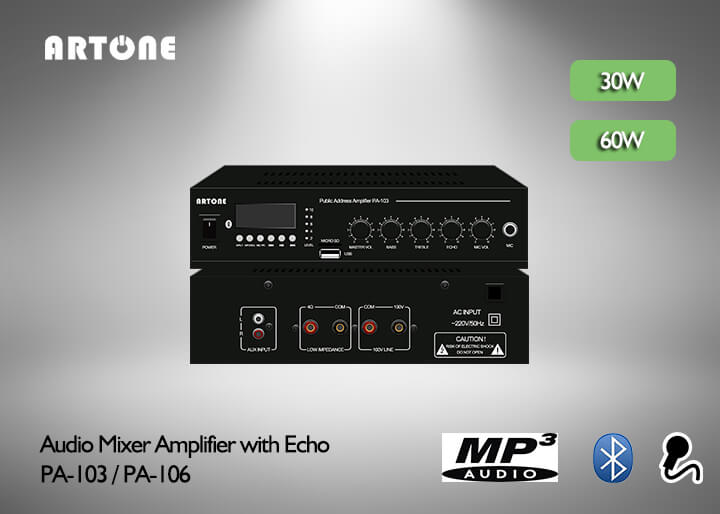 Specification
| | |
| --- | --- |
| Model Number | Mini Echo Mixer Amplifier PA-103 / PA-106 |
| Power | 30W / 60W |
| Input | USB, SD card, Bluetooth, AUX |
| Output | 70/100V, 4 ohm |
| Frequency Response | 80~12KHz |
| Sensitivity | Mic 500 mv |
| Measurement | 280 x 187 x 65mm |
Related Items
Welcome to contact us for audio devices distribution and OEM/ODM cooperation!